Video-Encoder and IP-Streamer
BLANKOM offers a wide range of Multiprotocol TV Video-Encoder / IP streamer working with CVBS FBAS analogue or combined with HDMI up to UHD 4K or 3G (12G) (U)HD/SD SDI streaming in Multicast and various Unicast protocols, - some support the almost modern unicast protocol SRT.
We separate the Encoder-Streamer World into two classes: Hardware based SYSTEM-ON-CHIP(SoC) and FPGA- (Software) based.
Like to see a Live Demo-Stream from our SoC Encoder online?
Click here: HDE-265 - live restricted to 5 viewers at the same time

Off-Topic Tricks and how to setup the SoC encoders for YouTube and other use cases: Extra Tipps and Tricks Page - Multiprotocol-Encoders
System on Chip (SoC DSP) based Video Encoder Streamer Family
h.265 (HEVC) and h.264 (MPEG4) compatible encoder & IP streamer as boxed or 19'' 1RU and 3RU
Several Input HDMI, VGA and SDI compatible
Stereo Audio embedded or external Input (3.5mm Stereo Jack)
UHD, HD & SD Resolution 2160p, 1080p, 1080i, 720p, ... Downscaling supported
Multiple parallel streaming Protocol's supported: Unicast RTSP, RTMPs, HTTP, HLS, FLV, SRT, MJPG and Multicast UDP/RTP
Distribution of Video Camera and other sources content over LAN and WAN
2 or max. 4 simultaneous and independent Live stream broadcasting encoder engines to multiple destinations
Video-over IP applications (Studio signal conversion and distribution)
IPTV/OTT and Digital Signage applications
Video conferencing, Camera streaming. The SoC models are supporting the ONVIF standard (2.x) S, C, G.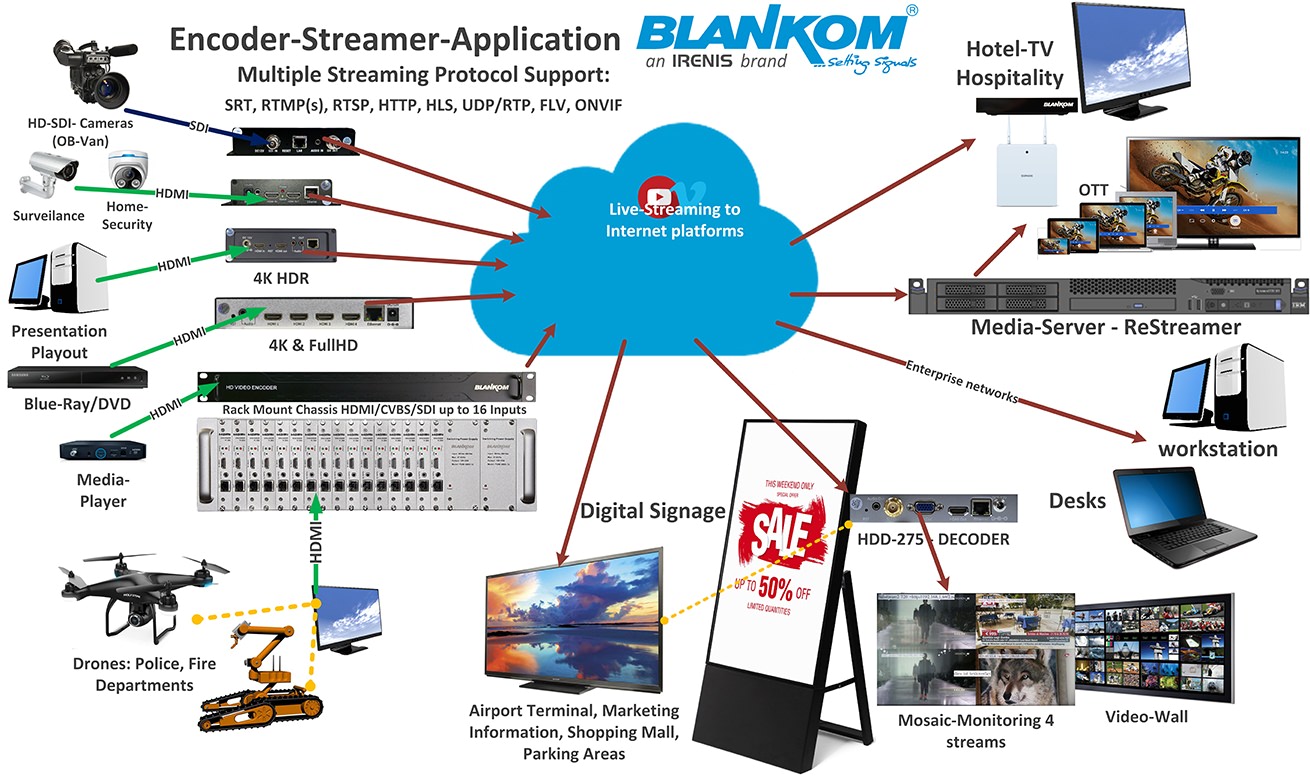 Broadcast-Headend-Encoder-Streamer
'Head-End' Encoder: We are separating in Hospitality- Headend's and Broadcast-Applications
Head-End Encoder-Streamer using - acc. to DVB - only in Multicast and -partly depending on Model- in RTSP/RTP Unicast
Different Models supporting UHD, HD & SD Resolution 2160p, 1080p, 1080i, 720p, ...
HEVC Codec and the common h.264 AVC also the old fashioned MPEG2 are available
Distribution of TV/Video-Signals in HDMI and HD-SDI via LAN and WAN
Scalable amounts of Inputs in 1RU: min. 4 ...max. 24
Video-over-IP-Applications (Re-creating and Distribution of Studio-signals)
and back: IP/ASI to HD-SDI Decoder
Perfekt for IPTV/OTT and Digital Signage Applications