Video-Encoder -Streamer Testpage ... non commercial
On this page you can see an embedded Live-Video Stream (non responsive 1280x720p25 to 720x404 @ 2.5Mbit/s VBR) downscaled from our HDE-265 SoC encoder.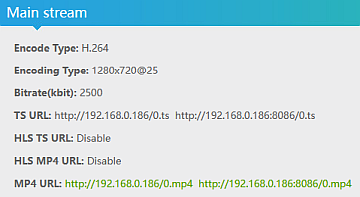 The source is a WD-Mediaplayer with HDMI output.
The streaming has limited visitors at the same time ... so if it does not work, more visitors viewing this than the capacity allows it.
If you are using the Mozilla browser it will display the video inside this page.
If you use a different browser like Chrome, Opera or EDGE, these do not support the VIDEO-TAG.
But you can use this link to see a full screen picture instead:

link to the video

use the mouse and the player line will appear.
If the Video stucks at the beginning -press Pause- for some seconds to fill the buffer first.

Again: Some browsers do not support the < video > Tag like:
although most are based on the same Chromium engine (Google is somehow different) but MOZILLA = Best player