Trans-Modulator HDC-7024A
Compact Head-End 24x FTA SAT & IP/ASI
to 16 DVB-C QAM Trans-Modulator
A transmodulator does nothing more than convert a DVB reception process from satellite to cable network.
A typical and compact application is a hotel with existing coax cabling as a tree structure. Since modern TV sets are usually equipped with multi-tuners, the existing cable network can be used. Considerable conversion costs are saved, as SAT networks have to run in a star configuration and each TV connection needs its own line.
With the cable network, the signal is usually looped through from box to box and can thus be forwarded in a row. With the HDC-7024A, satellite TV DVB-S(S2x) is converted to cable TV in digital quality in DVB-C without loss. Not only do the SAT high frequencies and bands have to be converted, but also the bandwidths and their limits. and the bandwidths and their limits (DVB-C maximum = approx. 50Mb/s) must be taken into account, but also the internal DVB-PSI/SI MPEG tables, which enable the fast tuning of the TV receivers.
The conversion of the 24 transponders into 16 DVB-C QAM channels is a cost-effective variant in a unit that can transmit international TV and radio content - e.g. from ASTRA and Eutelsat - to the rooms, lobby and bars/restaurants into the existing TV network.
We currently offer this new headend-in-a-box model for a special price of 2990,-€ --- sounds interesting? -> send us an eMail ...

24 DVB-S2x FTA Tuner, 2 GigE In- and Out, 2 ASI In, 1 RF out, 1 RF Test-port
Up to 124 channels TS over UDP/RTP, multicast IGMP v2\v3 input
16 non-adjacent DVB-C QAM carriers output, compliant to DVB-C (EN 300 429) and ITU-T J.83 A/B (optional: or DVB-T COFDM out)
16 multiplexed or scrambled TS over UDP/RTP outputs
CA PID filtering, remapping and PSI/SI editing, Accurate PCR adjusting,
Up to 180 PIDS remapping per channel
Supporting DVB general scrambling system (ETR289), 4x simulcrypt standards ETSI 101 197 and ETSI 103 197
Web based Management = NMS Network Management, 1x GbE Streaming MPTS out on GbE2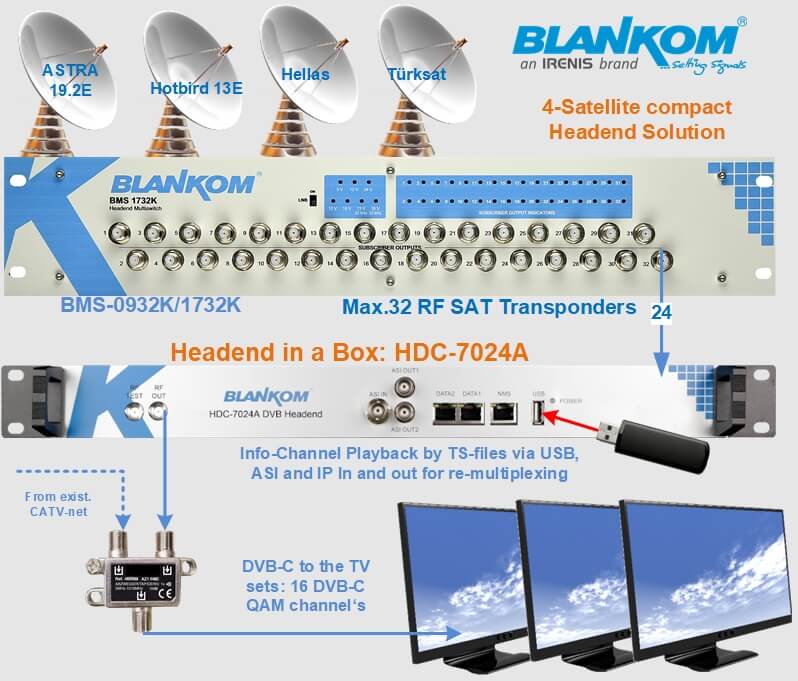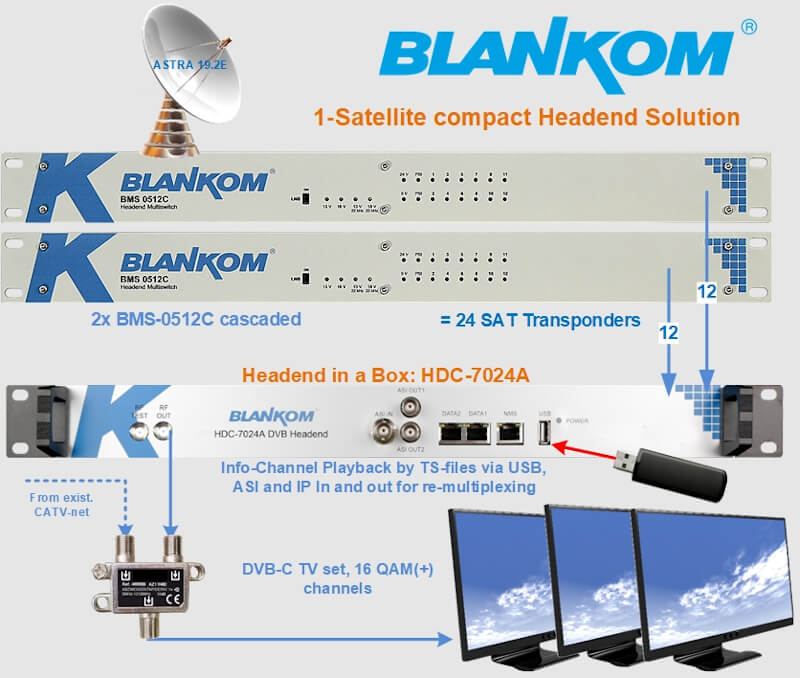 Trans-Modulator HDC-7016
16x FTA SAT & IP/ASI to 16 QAM Trans-Modulator
We currently offer this 16 SAT -> 16 QAM CATV Head-end-in-a-Box Model for a special Price of 2490,€ ---- just ask us by eMail... or call us

16 DVB-S2x FTA Tuner, 2 GigE Input, 2 ASI In, 1 RF out
Up to 512 channels TS over UDP/RTP, unicast and multicast IGMP v2\v3 input
16 non-adjacent QAM carriers output, compliant to DVB-C (EN 300 429) and ITU-T J.83 A/B
16 multiplexed or scrambled TS over UDP/RTP/RTSP outputs
CA PID filtering, remapping and PSI/SI editing, Accurate PCR adjusting,
Up to 180 PIDS remapping per channel
Supporting DVB general scrambling system (ETR289), simulcrypt standards ETSI 101 197 and ETSI 103 197
Web based Management = NMS Network Management, 1x GbE Streaming