Government
& Federal Agency Solutions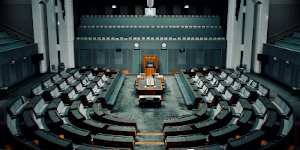 Keep staff and visitors informed and support multi media updates by BLANKOM / OmniscreenTV IPTV and Digital Signage solutions
Today's federal government and intelligence agencies require immediate access to video content to support their endeavours. Critical operations, from the ground to outer space, rely on live video streams, VOD content, digital signage, and emergency alerts in to operate efficiently.
Local and central government facilities use our corporate solution OmniscreenTV IP video and digital signage solutions to enable staff and visitors to stay on top of global affairs and local information, with 24/7 access to live events and video on-demand in any location. Our IP streaming solutions give low latency and security the highest clearance from the field to headquarters. Deliver, monitor and manage secure, live TV and video content around local and central government offices, including global and international space agencies.
Why Choose Our Solutions for Government and Federal Organisations?
Allow Staff to Keep Track of Local and Global Affairs 24/7:
Stream newsfeeds and event coverage in real-time, delivering live TV and video to desktops, communal area screens and mobile devices..
Flexible Control of IP Video and Digital Signage System:
Integrate with other applications, such as room control modules, with extensive diagnostic tools to ensure you get the most out of your system, centrally managed from a single server. Video Streaming Security Administration tools provide the capability to define access and user groups so content is only viewable by approved personnel.
Easily Disseminate Live Feeds and Recorded Video:
Situational awareness and ISR solutions effectively transmit and process field-collected information, like video or telemetry data, for timely analysis to support mission critical applications.
Market Applications for Government & Federal Agencies
Digital Signage in Government:
Seamless integration with BLANKOM / OmniscreenTV IP video solutions enables live TV and video to be quickly incorporated into impactful signage screens that engage, inform and entertain.
Share relevant information – communicate live news, video and tailored information simultaneously within branded digital signage screens.
Engage your employees –
allow your staff to watch video entertainment that you centrally manage in breakout areas alongside targeted internal communications. Enhance your image – reinforce your local government image by creating fully customised, branded digital signage screens in public-facing areas.
IPTV in Government:
OmniscreenTV IPTV middleware enables the simple creation of tailored interfaces for an enhanced viewing experience on any device.
Efficiently engage with remote employees – keep remote staff connected, informed and trained with live and recorded video distributed across secure networks.
Offer an enhanced viewing experience by creating tailored interfaces with our IPTV middleware.
Efficiently train staff – disseminate video-based training more efficiently by archiving learning materials for on-demand playback on any device.
Deliver live content to remote locations – stream footage of overseas activities to central government and military command.